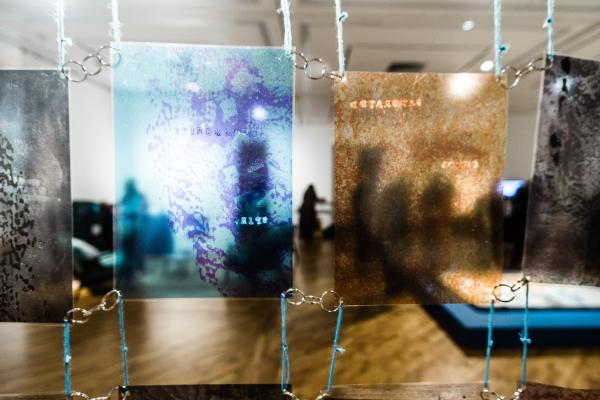 Visit the Ferens after hours for our Environmental Art Late on the 23 November at 6pm!
Join local artists and be inspired by the latest exhibitions for an evening of environmentally focused creativity. You can get a cocktail, sketch the collection, create prints and textile works, listen to live music and watch performances by local artists.
Tickets cost £15 and include a drink and basic art materials.
During the evening you can try your hand at three different art practices:
Sketching
Led by a local sketch artist, you will have a chance to respond to art by local artists in the reflective Hull on the Rise exhibition and create your own drawings. Artist materials will be provided.
Mono Printing
Join printmaker Dawne Brooks to create a mono print. Mono printing is a form of printmaking where the image can only be made once because it has been treated in a unique way through the inking process. Using found textured objects including textured papers, natural materials, and non-recyclable waste materials participants will create original multi layered prints, exploring the differences between non-biodegradable and biodegradable materials. Dawne Brooks is a printmaker who creates abstract monochrome prints and drawings that are rich with tone and mark-making, moving from urban landscape inspired images to more abstract compositions.
Textile Weaving
Join textile artist Rachel Anderson and learn how to weave with recycled textiles. With the turn of each weft, you'll create a rising river - will you weave a trickle or a flood?! Rachel Anderson is a local textile artist working with machine embroidery, dyeing, printmaking and machine knitting, as well as photography, pattern and digital design.
Experience performances from artists commissioned by University of Hull's Risky Cities for the Flow of Words project, exploring the effects of flooding on communities:
Lisa Coates and Graziana Presicce
Lisa (mezzo soprano) and Graziana (pianist) are a classical duo who take a multi-disciplinary approach to their performance, combining music with poetry and visual art. Their performances champion the work of historic and contemporary women composers, alongside works from the more familiar repertoire. Lisa and Graziana have taken inspiration from community writings to explore the theme 'Home', with an emphasis on live performance responding musically and poetically with supporting background visuals.
Sarah Johns, Martin Lewsley and Jay Moy
Sarah, Martin and Jay's commission was to develop and present an idea as a 'work in progress'. Waterwords is an audio-visual performance piece incorporating pre-recorded and live processed audio, and live manipulated projected visuals. Through the character of "Water", we narrate an immersive story of Hull, a city born of water, with water at the heart of its development, and its ongoing relationship with water directly affecting its future. Words by Sarah Johns and Jay Moy, performed by Sarah Johns. Audio by Martin Lewsley. Visuals by Jay Moy.
Dave Windass
Dave Windass is a writer, artist, and producer. Dave has created a dramatic soundscape that integrates pieces of work written by communities. These words, voiced by actors Matt Sutton and Rachel Dale, will be combined with field recordings, live guitar, and saxophone to present a creative and emotional journey, an orchestra of voices, that incorporates the unique rhythmic patterns that echo the physical and emotional effects of tidal surge, flooding and environmental change.
Book your tickets