At the heart of Hull's heritage and culture offer
Our museums and gallery are a significant part of Hull's cultural offer. We bring creative experiences, world-class art and heritage to our local communities and beyond.
Hull Museums and Gallery are supported by Hull City Council. We sit within a wider "cultural services" department in the council-owned arm's length company, Hull Culture and Leisure Ltd.
Alongside this support, our work is also made possible through major grants and partnerships. This means we can deliver the best for the people of Hull and help make the city a great visitor destination.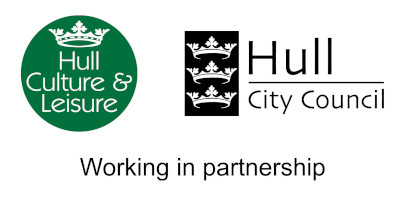 The Humber Museums Partnership – Proud to be an Arts Council National Portfolio Organisation
We're proud to be the lead partner in the Humber Museums Partnership, a collaboration with local authority museum services in North Lincolnshire, the East Riding of Yorkshire and North East Lincolnshire. Together we shine a light on the people and stories of the Humber. We increase access and opportunity for our diverse communities and the most disadvantaged. By embedding heritage in our offer and bringing great art to the region, we help shape a sense of place.
The Humber Museums Partnership began in 2013. It has been an Arts Council National Portfolio Organisation since 2018. With an uplift in our NPO funding for 2023/26, the partnership now extends to North-East Lincolnshire.

Hull Maritime
Hull Maritime is a major capital project to redevelop five sites and two ships across Hull city centre. It is jointly funded by Hull City Council and The National Lottery Heritage Fund. Drawing on Hull's unique spirit and sense of place, this is a heritage-driven, transformational project. It aims to promote and protect Hull's incredible maritime history, architecture and collections.
The project will build on the success and aspirations embedded in Hull during 2017, the start of our tenure as UK City of Culture. It confirms continued regeneration and investment in the city. And a commitment to creating a world-class visitor attraction of the future.
Hull Maritime tells the story of Hull's remarkable journey as a global powerhouse for trade and cultural exchange. It highlights the city's connections to the rest of the world through its role as a major port.
The project is presented across four important sites and two historic vessels. Each houses significant collections comprising some of Hull's most precious heritage. Together they tell stories of invention and ingenuity. Perseverance and endurance. Triumph and disaster!
By redeveloping these sites, the project will secure the future of Hull's historic assets for us all. It will also regenerate and reconnect the heart of the Hull to its historic waterfront, the place where our city's maritime history began.
Funded by National Lottery players and the people of Hull, the project puts Hull's maritime story at the heart of its future as a city destination.

Our delivery partners
We love to work with other creative minds. Working in partnership helps us provide great cultural experiences for our visitors. We have local and national partnerships. Our partnerships with national museums and galleries bring world-class art and culture to our region. Local collaborations provide a shared opportunity to reach new and diverse audiences.